It would not be an exaggeration to call the EZYDog doggy flotation device a true life saver. The product's durable materials and different sizes and colors to choose from make it a perfect fit for any canine companion. Anyone looking to keep their water loving pups safe and sound should not hesitate to put this jacket to the test. While it may be higher on the price scale than other dog life jackets, rest assured this product is made with quality materials. Rest easy with the knowledge that your dog will benefit from the absolute highest degree of safety available.
This product combines the utmost functionality with comfort. The strong handle and straps keep the vest snugly secure at all times and in all situations, and dog owners will never have to worry about it slipping off or wearing out. The vest itself does its job remarkably well, using ultra-buoyant material to easily stay afloat with even the largest dogs. Most surprising is that while doing all this, it remains extremely comfortable and allows for a great degree of freedom of movement, both for human hands as well as canine bodies.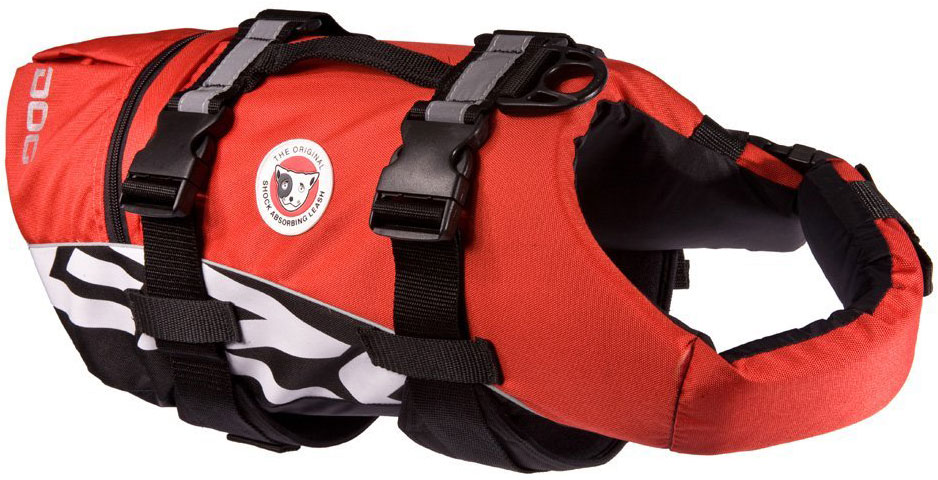 The EzyDog doggy flotation device comes in five different sizes from XS to XL. That should work for most dogs ranging from 15 to 90+ pounds. If you need an even smaller life jacket, consider the EzyDog Micro version which is for dogs under 15 pounds.
Refer to the chart below for sizing information. It's important to note that we recommend measuring your dog before ordering. Many times, people will order a size smaller if they are on the edge of one of the dimensions. But, we recommend the opposite! Order one size larger, if you can, because you can cinch up the straps and make for a better fit.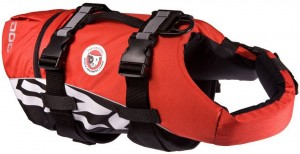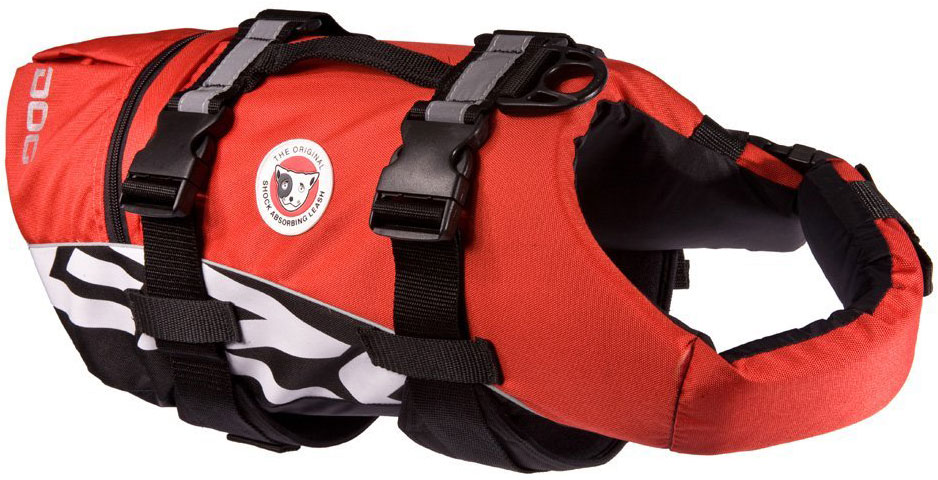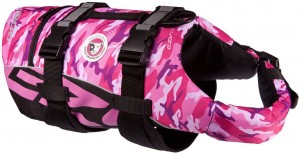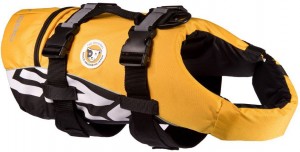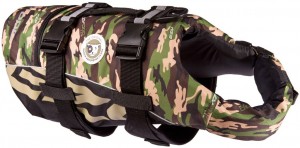 There is an assortment of colors and designs to choose between, from a standard red and yellow, to pink and green camo print. Each of these choices give high visibility for a water bound dog and they all have their own attractive characteristics. It would be preferable if the designs came in an even wider variety of colors, but the nature of the product requires brighter tones for safety purposes.
It should be pointed out that the EzyDog doggy flotation device uses about 50% more flotation material than some of the other dog life jackets. This is important for longer swims, where your dog may grow tired.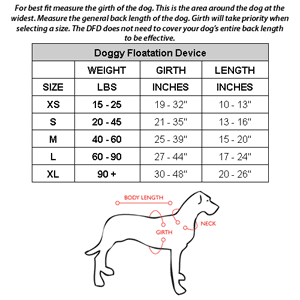 One consideration is that this product is priced somewhat higher than other options on the market. A bit of research will turn up alternatives as low as $30, although one might not be as confident in any of these jackets' durability or proven effectiveness. Dog owners will rest more easily knowing that they chose to invest in one of the best canine life vests that money can buy. At the end of the day, the bit of extra cash is more than a worthwhile investment, knowing that your dog will be safe wherever she goes.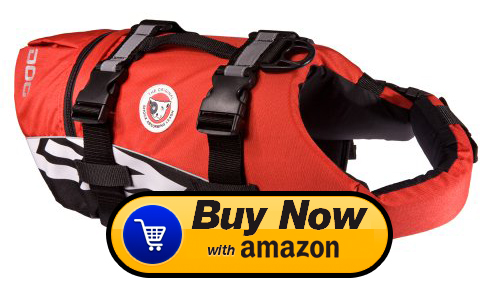 The EzyDog life jacket is available through Amazon and other sellers. Once you've made your purchase, and tried it on your dog, please report back here and let me know what you think and what size you ordered. It would be helpful for others who are trying to figure out what size jacket to order.
Please follow and like us: