Want to make some waves by cruising local lakes or the open seas but worried about leaving your K-9 friend behind. Fear Not, for a dog's favorite thing to do is to spend time with their owners and they love having the wind in their face. So, where you waiting for? Bring mans best friend on your next adventure!
Boating with dogs can be a fun adventure but you must be careful to make sure that your pets are safe when out on a boat. Not all dogs have large paws that are good for swimming and even those that are can quickly become tired while dog paddling, which can make it harder for them to swim. If you have ever tried rescuing a drowning pet than you know it is no easy task. (I've even seen the little dogs get a little hysterical). This is why we recommend giving your pet a Dog Life Vest.


Boating With Dogs

Dog life vests come in all sorts of sizes, shapes, and colors. Whether your pet is a large pup with an eye for adventure or just a little guy. There are safety vests you can use to keep your pooch safe when out on the water. If you do decide to get your pet a life jacket before heading out on the water, make sure you get one with a handle on the back so that you can lift them back into the boat without them pulling you overboard. While the latter would be much more amusing for everyone else to watch I can promise you that dog vests with the handle on the back is the much better way to go.
The good news for cat lovers is that you can now get a pet life jacket small enough to fit your cat as well. While a cat is less likely to jump into the water. They can just as easily fall overboard. If your cat is anything like ours it likes to live on the edge and I mean that literally because our cat likes to sit on the edge of the boat and look down into the water.
Boating with Dogs

Top 3

Safety Tips

:
Provide some shade for your pet.

Be sure that you have a pet life jacket for your dog or cat and be sure to use the straps to make sure that it fits snugly around your pet's chest. Make sure that your pets life vest is not to tight or it could make it harder for your pet to breath.


Provide some shade for your pet.



It is a good idea to have plenty of drinking water (we like to bring 2 one gallon milk jugs filled with water) and perhaps a covered area for your pet to lay down so that they do not become overheated while out in the sun. Remember that unlike you your pet is always wearing a fur coat and needs to be able to stay cool on a hot day.




Bring Food and Snacks



If you plan to be out on the boat for long then it is a good idea to make sure that your pet has plenty of food and water. Dogs can burn energy fast and need to eat often and being out in the sun they will want lots to drink as well. So, make sure that you bring plenty of food for your pet to keep them happy and healthy.




When boating with dogs remember that keeping your dog safe could end up being the best decision you ever make. Just like billy found out when he took his dog Ajax out to explore an island when a storm came in suddenly and left him and a friend stranded. Read the story we covered where this boys dog comes to his rescue and alerts rescue workers of their location.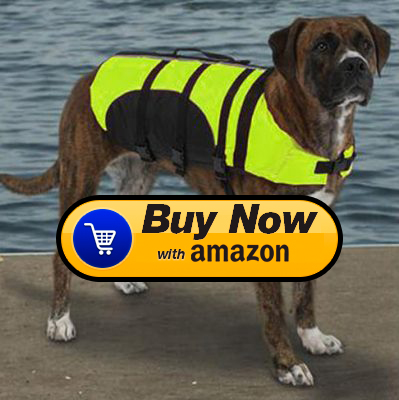 Break in your pets Sea Legs the easy way
The easiest way to get your pet used to being out on the water is to introduce them to the water slowly. The best way I have found to help your dog to enjoy boating is to introduce your pet to the boat while it still at the dock for about 15 or 20 minutes and then take it out for a short 30 minute to a 1 hour boat ride depending on how well they do. Now I've heard most dogs love going out on boats but every once in a while you'll find a dog like my old black lab that started moaning the moment we walked on the boat. No worries though, after a few trips she learned to love the water and would run to the boat.
So, on your first trip, you will want to do a short trip of 30 minutes to an hour. Then on your 2nd trip, you can try for 2 hours and then 3 hours on your 3rd boat trip. After your 3rd boat trip, you can pretty much play it by ear. Every dog is unique and may act a little bit different but just be patient with them and soon you will both be ready for the high seas… or lakes. Whichever you prefer?
What if my dog gets bored?
I often hear people say that they would love to go boating with their dog but they are worried about the dog getting bored and whimpering the whole time. While this is a valid concern I have found that most dogs just want to lay on the boat and enjoy the cool air as the wind blows over the water. So, you may want to get one of those dog beds on Amazon but if you are still concerned about your dog getting bored then I have a few suggestions about what you could bring along for your pet.
Dog Bones –

I've seen some dogs lay down and chew on a bone for hours so the first thing I like to bring for my dog is a nice big dog bone.
Dog Rope Toys

– What could be more fun than playing with the tug of war rope toy. Generally, dogs prefer to play tug of war with their humans so if you don't mind taking the time to play with them then these can make some super fun gifts and they double as a chew toy as well.
Squeaky Toy Plushies

– These fun little plushie, squeaky toys for dogs is designed to look like a fox, raccoon and a squirrel. These toys have no stuffing just a squeaker inside to give your dog hours of fun.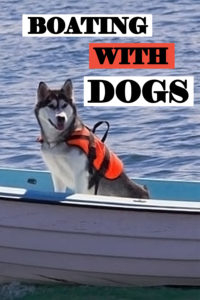 Now it's time to hook up your boat and head to the lake or the ocean as the case may be. Just remember to be careful out there in the sun and be sure to keep yourself and your little companion hydrated while you are out having fun in the sun.
If you found this article about boating with dogs helpful we would appreciate you sharing it with your friends or pin it on Pinterest.