If you're looking for a conversation starter, this is it!
This product is new, but everyone who has reviewed it on Amazon has given it 5-stars.
The SwimWays Sea Squirts Dog Life Jacket is a unique addition to the dog life jacket selection. This product is unique in that it has a dorsal fin. The product comes in two different sizes: Small, and medium.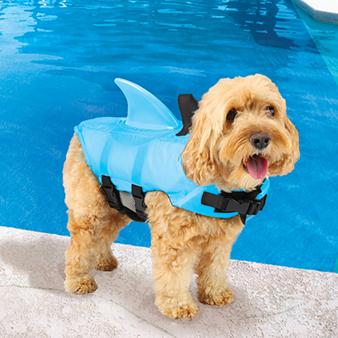 Small: Designed for dogs 10-20 lbs with a chest size between 17-23″ and a neck size of 12-15″ which is suitable for smaller dogs and puppies.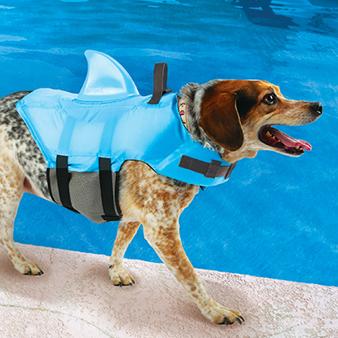 Medium: The medium vest is for dogs that are 20-50 lbs with a chest size between 24-30″ and a neck size of 16-19″ which is large enough for a Labrador retriever.
Each of the life vests feature a dorsal fin that is flexible. They also have a handle on the back that make it easy to grab your dog and pull out of the water. They also have a metal ring for connecting a dog leash. Something that not all dog life jackets have.
These dog life vests are fully made for water with heavy duty fabrics and flotation. They'll keep your dog safe in the water, even with waves.
One of the best features about these life jackets (besides the dorsal fin!) are the excellent flotation material under the dogs neckline. This will certainly help to keep your dogs face out of the water, and assist them with swimming. There are two straps that secure the vest under your dogs belly, in addition to the strap under the neck.
The SwimWays company has been producing all kinds of great products for pets and people for years. You can buy with confidence that there's a real company behind the SwimWays Sea Squirts Dog Life Jacket product.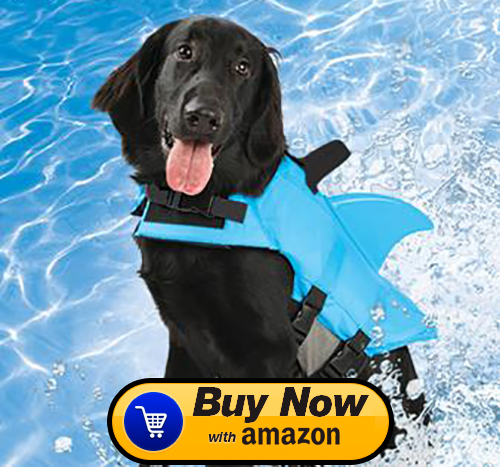 Currently, the SwimWays life jacket sells for between $36-50 on Amazon, and ships via Amazon Prime.
Please follow and like us: