The Ruffwear K9 Float Coat Dog Life Jacket is one of the most popular life jackets for dogs available today! It's backed by a great company with lots of great products.
Best of all, the Ruffwear K9 Float Coat comes in 6 different sizes! You're in safe hands with the Ruffwear!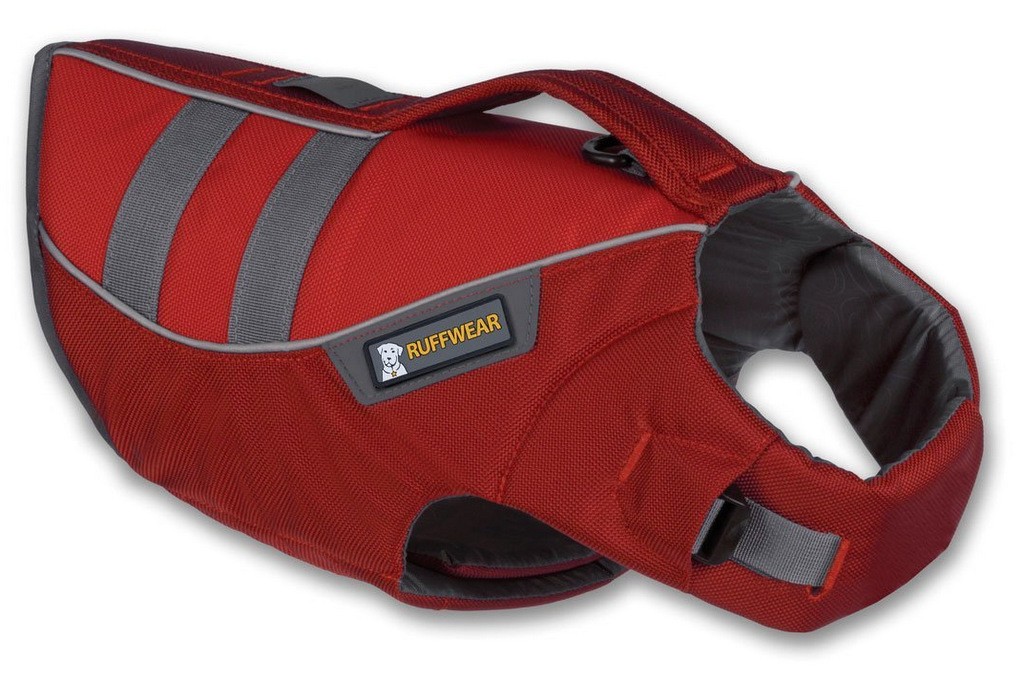 The Ruffwear K9 Float Coat Dog Life Jacket comes in yellow and red. Actually, to be precise it comes in Dandelion Yellow and Red Currant. Oooh.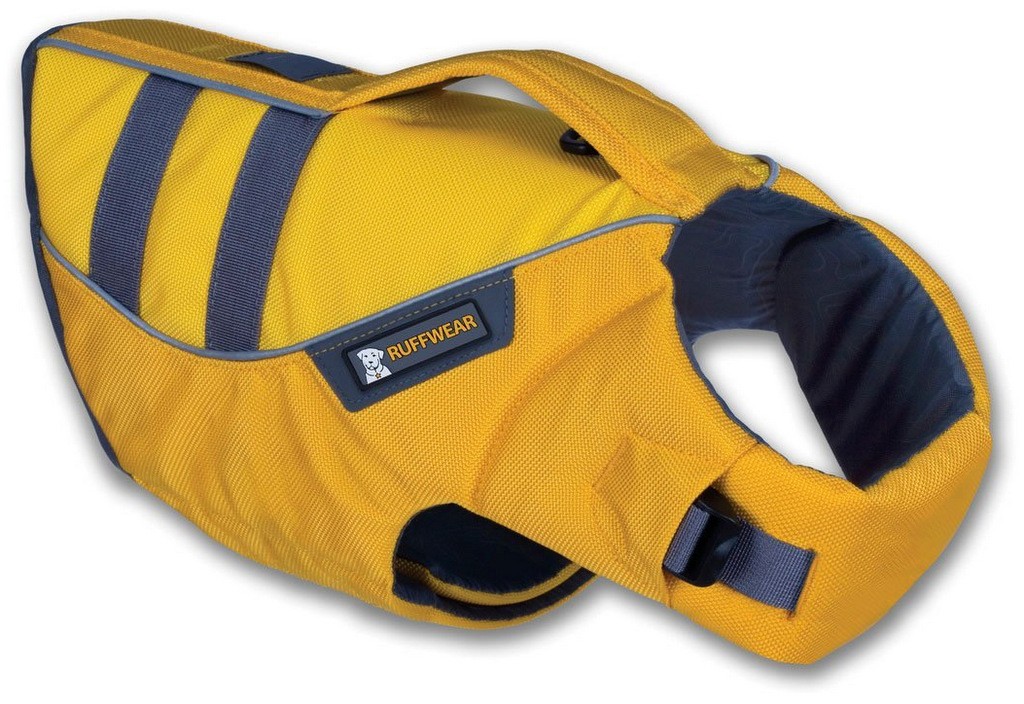 Here's the high level cliff-notes:
Built with abrasion-resistant materials
Well-placed foam panels allow for natural swimming
Pull handle is positioned perfectly so your dog is easy to pull out of the water
Fits dogs of all sizes
One of the few vests with good flotation material under the chest which helps keep them higher in the water
Highly rated online! Amazon has 224 reviews for this product and a 5-star average rating! That's almost unbelievable!
Neck adjusts for a range of sizes (telescoping neck panels make it easy to adjust)
The hardest part about making a decision is knowing which size is best for you. So, to help out I've gleaned the reviews online and present you with the sizes people say worked good for their dogs.
Ruffwear K9 Float Coat Dog Life Jacket
Sizing tips:
People with 90 to 100 lb dogs report that the large size works great for them. I know someone with a 100 lb Labrador retriever (and a 37″ girth) and they ordered an X-Large and it fit perfectly. This vest is constructed really well. For larger dogs, the addition of flotation devices under the belly really helps.
If you have a 40 lb Border Collie, you'll be happy to know that people report the small size is perfect. It is better for you to have a snug fit, than too large. If your Border Collie is on the larger size, move up to a Medium.
Get the X-Small size for a Wire Fox Terrier.
One owner I know has a Lab/Collie mix and reports that they bought the Medium size for their dog (before the dog was fully grown) and now that the dog is over 60 lbs she still fits in the vest.
Another person has a Vizsla that is about 40 lbs and got the Medium size… they report that the handle is really strong and effective. The life vest just holds up really well to use.
If you have an English Bulldog of about 65 lbs you'll probably want to get the Large size. I've heard reports from one dog owner that say the Large fits great.
For really small dogs of around 11 lbs and 16 inches girth you should get the XXS size.
One family reported that the Medium size is working well for their 65 lb boxer / pitbull mix. They said the telescoping neck was what made the difference.
If you have a lab mix and are debating between the Medium or Large size, we would recommend that you go with the Large. Especially if your dog is over 60 lbs. The Medium will be on the upper end of your fitting options.
German Shepherd dogs that weigh over 90-106 lbs should go with the X-Large size. That size should fit very well for larger dogs with a few inches to spare. You can always tighten up the straps to fit. I've heard of dogs that weigh up to 138 lbs fitting into the X-Large size, including German Shepherds.

So, in summary this is hands down the best life jacket for dogs that you can buy. People report to us over and over again that they love this life jacket. We know lots of people who start with one of the other brands, and end up with the Ruffwear K9 Float Coat Dog Life Jacket.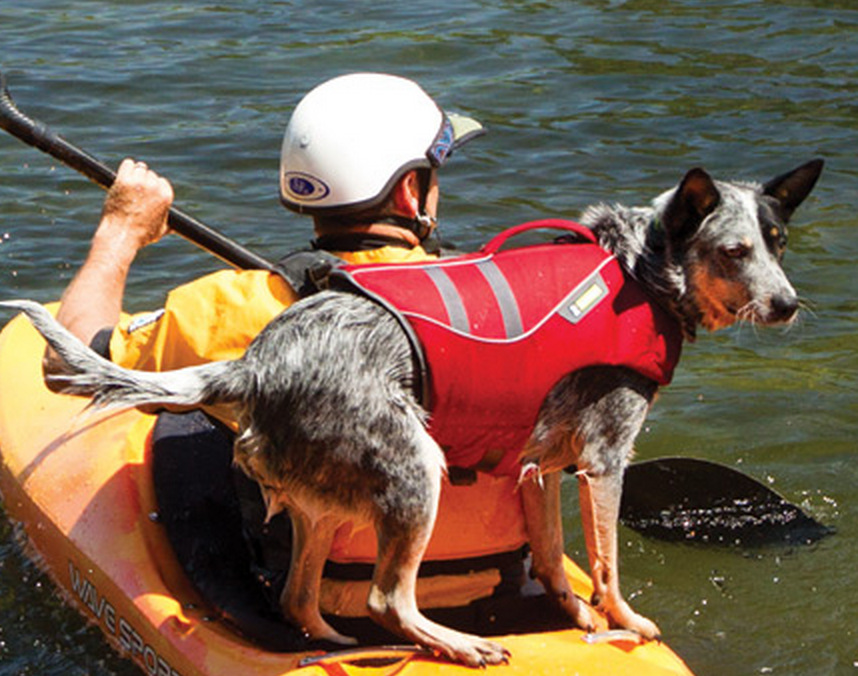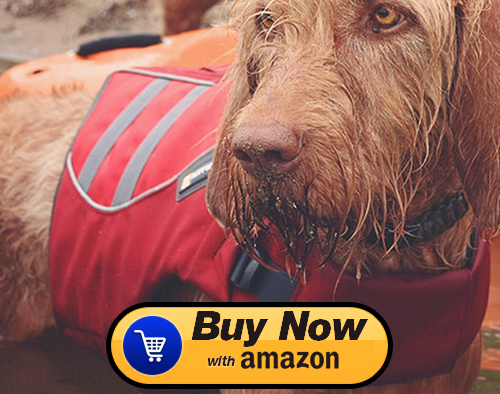 This is a remarkable product, made by a remarkable company that really knows what they're doing.
Just a tip on color: The yellow color will stand out the best in the water, and the red will blend in.
If you've purchased this life vest for your dog, we'd love it if you could leave a tip in the comments about what size you ordered and how it fit your dog.
Safe swimming!