Let's say your dog is already a good swimmer, and you want something that can give them a little bit of a boost in the water but not something bulky.
That's where the Kurgo Atomic Drop Dog Life Jacket comes in handy! This awesome life jacket provides both flotation, and comfort. It doubles as a sort of coat to keep your dog warm, and a life jacket.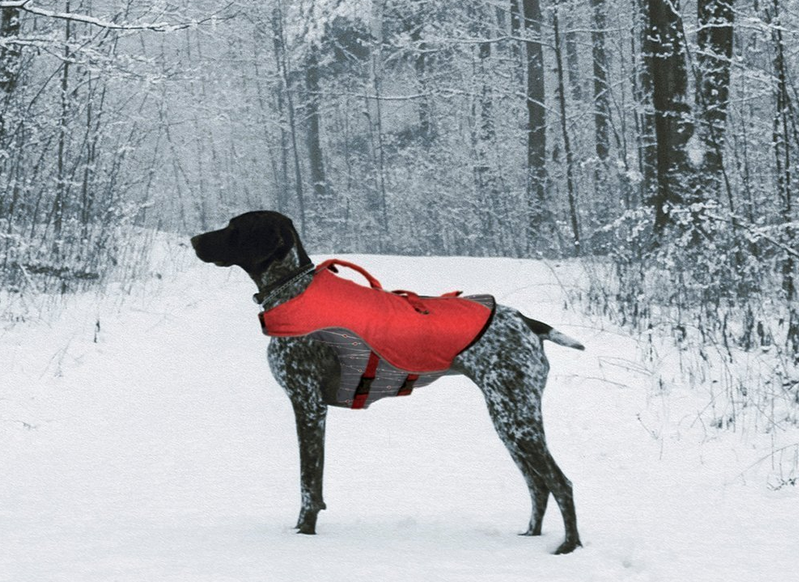 The life jacket has two streps that go under your dogs chest, as well as a strap for under the neckline.
This life vest flotation piece can actually be removed to convert into a perfect waterproof shell or raincoat.
It also has two metal rings for attaching your dog leash. The vest is pretty versatile in that it can be a coat for winter and also a life jacket for those times you are at the lake or the ocean.
The red color is the only color option, but it's reflective so you'll always be visible at night.
Currently, the Kurgo Atomic Drop Dog Life Jacket sells for $48 on Amazon and it has a 4.5 star rating.
Kurgo Atomic Drop Dog Life Jacket Sizing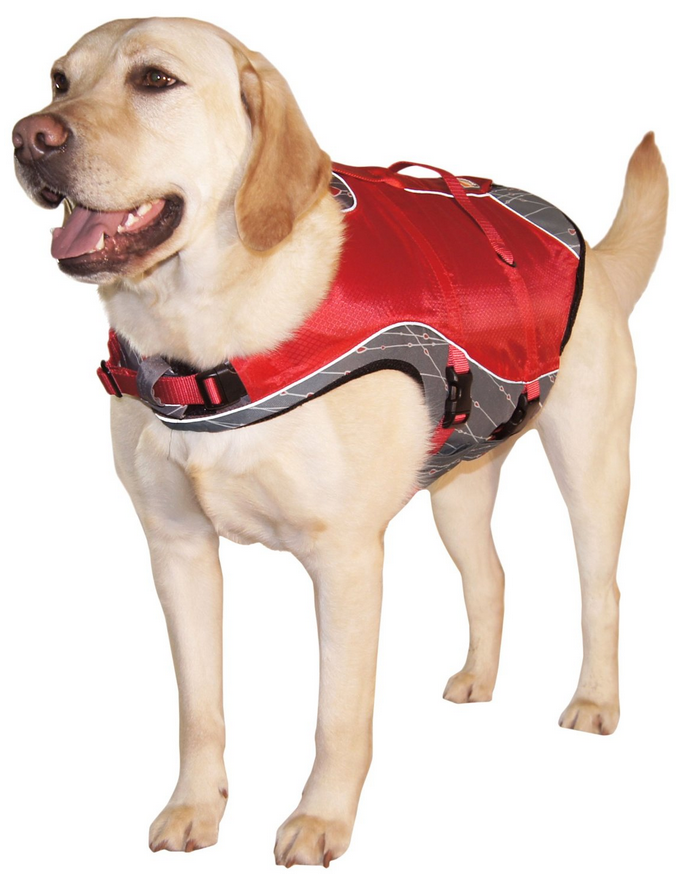 Sizing information
X-Large size fits 35-45 inch girth, and 28-36 inch neck.
Large size fits 35-45 inch girth, and a 28-36 inch neck.
Medium size fits 24-32 inch girth, and a 18-27 inch neck.
Small size fits 18-25 inch girth, and a 12-23 inch neck.
X-Small size fits 14-20 inch girth, and 8-13 inch neck.
This life vest comes in a variety of sizes. We've heard from people who report that the medium size vest fits dogs like Labs of 55 lbs with room to grow. The entire vest is very well made.
For larger dogs, like German Shepherds or St. Bernards we suggest the X-Large size. If your dog is 100 lbs or more we've heard good reports that the X-Large size works for them.

If you have an English Cocker Spaniel, we suggest the Medium size.
For smaller dogs, such as a 16 pound Miniature Schnauzer, we suggest the Small size. It will fit really good and be a comfortable fit for the dog. Even a 9 pound Chihuahua fits better in a Small size than the X-Small.
I hope this sizing information is handy. Contact us if you have any questions about getting a great fit. We have seen lots of dog life jackets, and can usually recommend a size.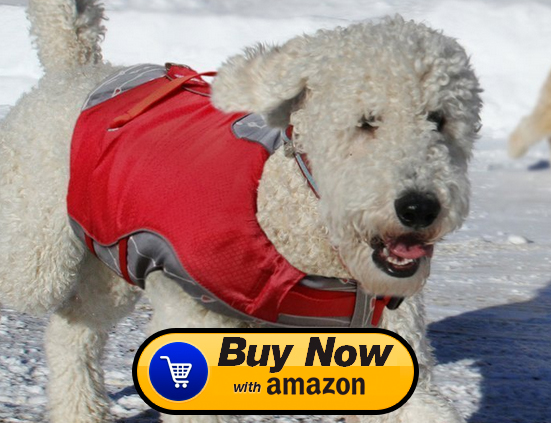 Earlier in my review I hinted that this provided a little bit less flotation than other live vests. I should clarify that this is a bona fide (or should I say bona fido) great life vest and will float your dog. It doesn't have too much flotation under the dog, as it is mostly towards the dogs sides. But, don't let this sway you as this is a terrific life vest with lots of happy customers.
Do you own this life vest? Leave a comment below and let us know what you think!