I'd like to take a couple of minutes to tell you about the excellent life jacket from Guardian. It's called the Aquatic Dog Life Jacket, and it comes in both yellow and orange.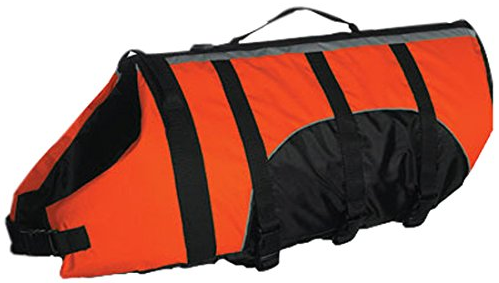 Nine different sizes! Sold in orange and yellow colors!
This life jacket comes in an unbelievable nine different sizes. Ranging from Teacup size to XX-Large.
The sizing guide from the manufacturer suggests measuring the length of your pet's back from the base of the neck to the base of the tail. Use that length to determine which size to select.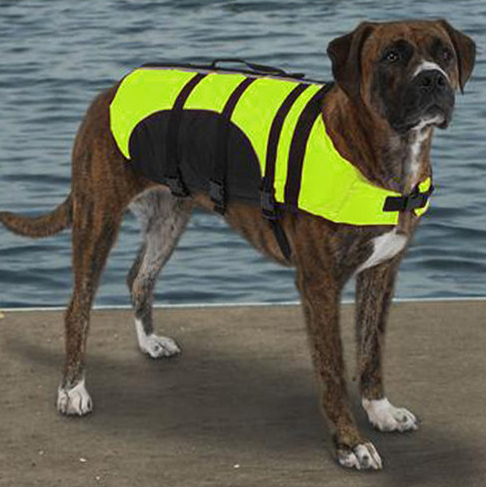 Determining the best size dog life jacket
Teacup: 6″ length
XX-small 8″ length
X-Small: 10″ length
Small: 12″ length
Small/Medium: 14″ length
Medium: 16″ length
Large: 20″ length
X-Large: 24″ length
XX-Large: 30″ length
The customers who have purchased and used this Aquatic Dog Life Jacket always tell us that this life jacket helps their dogs swim easier so that they don't choke on water. It's easy to put on, durable, and the orange color makes your dog easy to spot. Some customers with extremely active dogs have reported that the quality is not up to par compared to some other dog life jackets. One customer with a 75 pound lab only got about 4 hours of use before it started to come apart.
The sizing instructions are vague compared to some of the other dog life jackets. We advise that Guardian come up with more ways to determine a good fit.
Sizing information from real customers
With that said, here's some sizing recommendations we've seen from recent buyers:
The small size fit a 14 pound Yorkie Poodle dog.
A 55 to 75 lb Labrador Retriever fits well into the Large size.
We heard from the owner of a 25 pound Standard Wiener Dog who purchased a Small size life jacket. They reported that it fits perfectly.
One owner with an English Setter bought the Medium size and reported a perfect fit.
Get the small size if you have a 15-18 pound Jack Russell (smaller dog). We've heard from a customer that it fit perfectly out of the box with minimal need to adjust the straps.
The X-Small size should fit most 8 pound dogs, such as a Yorkshire Terrier.
If you have a longer dog, such as a South African Mastiff (more than 160 pounds) we suggest the X-Large size. Once you get up to the very large dogs it is a little bit more tricky to determin the exact fit. Definitely measure your dog and use the size chart above. For a very large dog such as a English Mastiff or a St. Bernard get the XX-Large size.
And last, but not least, if you have a cute little 5-6 pound Chihuahua they will look so cute in this life jacket. Just order the X-Small for them.
Aquatic Dog Life Jacket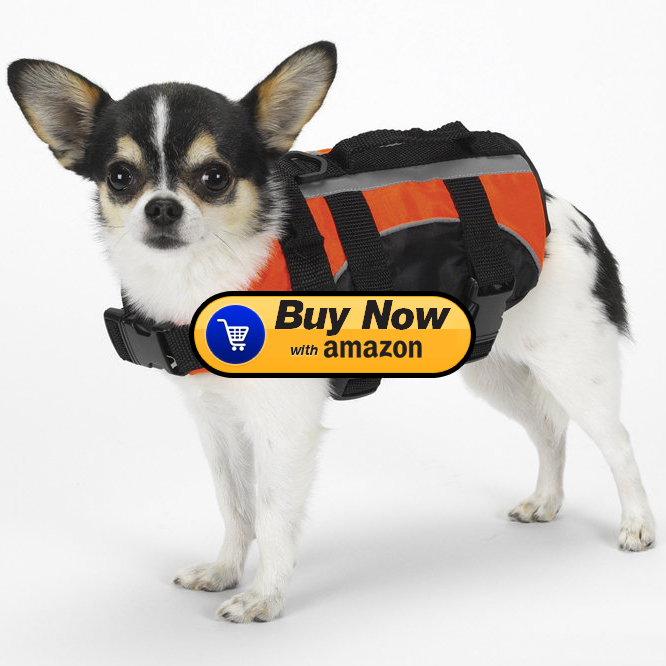 So, what do you think?
So that about covers this dog life jacket. This life jacket gets pretty good reviews online, and we recommend it for light use. If you're looking for a life jacket for maybe one or two trips, this one is perfect. If your looking for a life jacket that can last for years you may want to look at some of the other life jackets that have better durability.
This life jacket is currently for sale for $26 online and is a really great value.