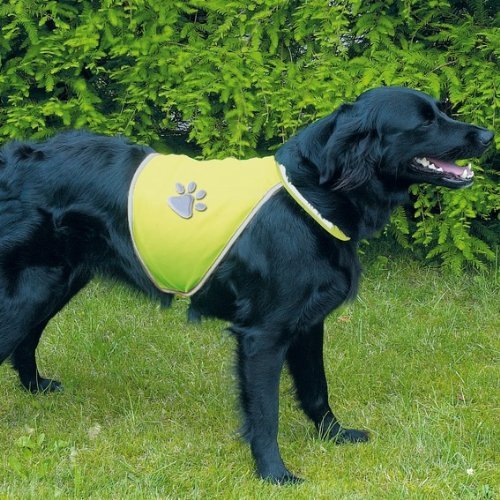 Looking for a reflective dog safety vest to keep you dog safe? These reflective jackets for dogs are great for your dog.
When searching for reflective collars I came across this awesome gear for my dog.
These bright and reflective vests are perfect for dog walks and are easy to put on simply by placing it over your dogs had and fasten the fully adjustable Velcro strap around the animals chest.
While this vest cannot be used as a flotation device it is great for making sure that your dog is easily visible around busy roads.
The reflective binding is connected around the edges of the vest with a reflective paw print on the side so that your dog can easily be spotted day or night.
Hunting Trips
My family often goes on hunting trips and to keep our dog safe we make sure that our dog has a reflective dog safety vest to make sure that others do not shoot our pet by accident.
When hunting you need to make sure that you know where your dog is at all times and these reflective vests make it easy to keep track of your dog so that you can keep your dog out of danger from other animals and hunters alike.
Fishing Safety
My family has always taken our dog with us everywhere and when we go on fishing trips this is no exception. Now when I was younger we had a black lab that was always getting into trouble.
On one fishing trip we went out early when it was still dark and we could not see our dog very well and later came to find out that she had gone to someone's minnow bucket to get a drink. Needless to say when she came running back after hearing a man in the distance screaming profanities we new she was once again getting into trouble.
This is why it is a good idea to make sure you can keep an idea on your pup. Looking back I can see how having a reflective vest would have made it easier to keep her close by.
Jogging Safety
A lot of people enjoy evening walks in the neighborhood or going for a Jog around the park. Having mans best friend for some company can be enjoyable and can make the trek a whole lot more fun.
Not only is bringing your dog with you fun but it can also be a great safety measure to keep you safe from possible attackers but it is a good idea to keep you and your dog visible for all around. Especially, when walking, running or jogging in possible traffic areas.
Reflective dog safety vests are useful and they aren't very expensive either. They keep you and your dog safe and they are easy to put on and take off. Just remember whether it is day or night make sure that you keep your pets safe. It only takes one mistake to lose your pet and it is our goal to make sure that we keep all dogs as safe as possible.
Check Out This Reflective Dog Safety Vest